AquaSTAR grasped the significance of the bond between the customer and the trainer.
During and after the free 30-minute trial, this chat with us feature helps clients and instructors bond. It's simple to use. Texting app-like. Ask questions, decide how many lessons or plan you would want and set up a session schedule with your instructor.
if you do not have the app, please go to your google play or apple store to download the necessary file to get connect wit us.
AquaSTAR recommended that you and your swimming instructor develop on a lesson plan to determine the number of lessons necessary to acquire the necessary skills. If you're having trouble deciding how many lessons to purchase, we've put up a few packages to help you narrow down your selections.
AquaSTAR knew the client could have further questions for the swimming instructor before deciding. Don't worry—AquaSTAR wants the best for both students and instructors.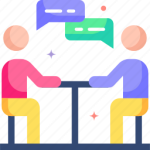 Every instructor sets their own rates. Their high fees reflect their top-quality service. I'm sure you had a trial lesson with a possible swim instructor before making your final pick.
Our instructors with fewer than five years of teaching experience rate themselves lower than their colleagues, making them more desirable to students who are happy with the instruction. If you like your instructor, remain with them. We'll respond to any questions or issues through our chatbot.
In our conversation, you may ask about the skillset, the building's entrance, or whether the instructor will be late due to traffic. Avoid sharing sensitive information as both parties want to remain anonymous. Our teacher will frequently check the chat box to provide the finest service and instruction. If they haven't replied, please be patient.
Respect our professionalism
Value our time and knowledge
Be reasonable
Each instructor's rate reflects their expertise level
If instructor is late 5 minutes behind schedule, please try reaching them through our chatroom before contacting us
Free to ask any questions in regards to your swim progress and any information in regards to your swim lessons
DO NOT ASK for personal information such as their contact information. These are part of our company policy
Contact us at aquastarlessons@gmail.com